Sale!
$2,188.00
A Cot bed which can be "transform" into a regular single bed!
1 slatted bed base 60 x 120cm, fixed.
1 fixed rail 1 position
1 bedside drawer unit
1 cosy storage unit / bookcase
1 storage unit, 1 drawer, 1 door
1 storage unit, 3 niches
1 changing board, 1 hook, 1 hanging rail
Converts to:
1  desk, 1 drawer, 1door
1 bookcase
1 storage 3 niches
Made in France
Only 2 left in stock (can be backordered)
Description
BED TO MEET ALL NEEDS: a compact transformable bed (60 x 120 cm cot that transforms into a 90 x 190 cm junior bed).
ERGONOMIC ADJUSTABLE BASE: adjustable base (2 positions) for ergonomic base height adjustment (so Mum doesn't have to bend over to reach the bottom of the bed when the baby is very small).
Deliver in Flat Pack.
Optional: Site Installation service charge: Cot: $30, Convertible Cot Bed: $80, Chest: $40, Wardrobe: $60
FOR A HEALTHY ENVIRONMENT: the wood panels used in this collection contain very low levels of solvents. Their formaldehyde content is less than 4mg/100g, two times lower than the minimum (E1) stipulated in the European standard (EN 13986).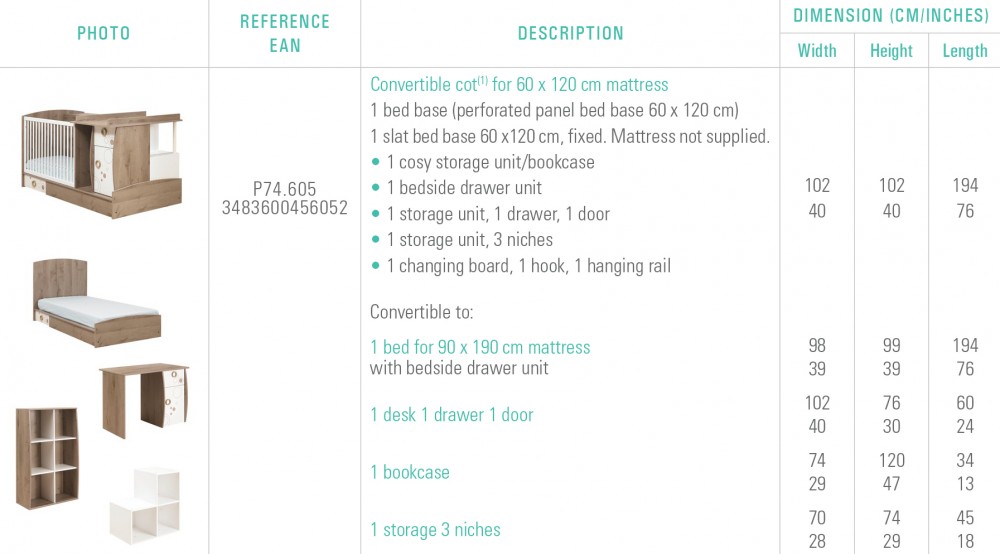 Additional information
| | |
| --- | --- |
| Weight | 150000 g |
| Dimensions | 200 x 105 x 80 cm |