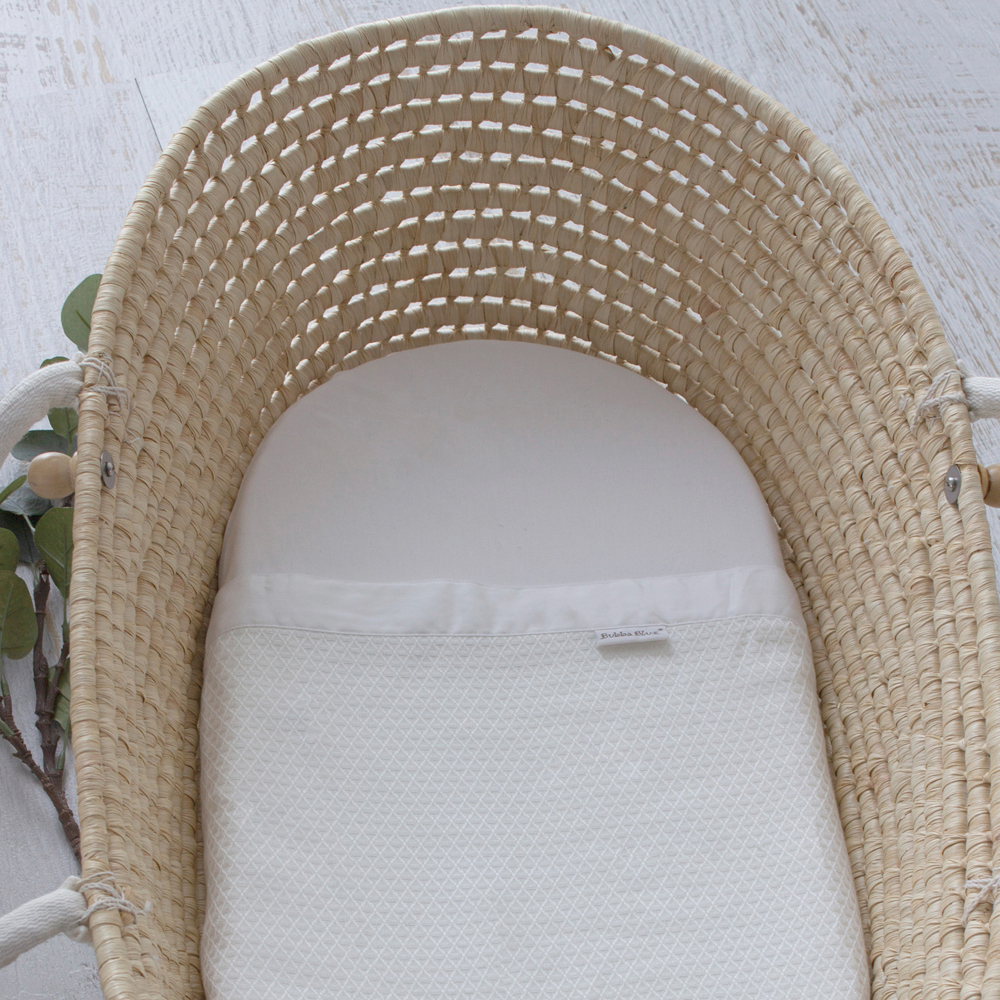 Soft to the touch, this luxurious, 'soft as silk' Bamboo Bassinet Waffle blanket is ideal for baby's delicate skin. Bamboo fabric is breathable, hypoallergenic and prevents overheating, perfect for use all year round.
Super soft bamboo blanket
Bassinet Size, perfect for bassinet, pram, stroller and cuddles!
Stylish and Contemporary waffle design
Environmentally friendly
Naturally breathable
Luxuriously soft, lightweight & feels like silk
Dust mite resistant, antibacterial & hypo-allergenic
Thermoregulating for a great night's sleep.
Size
80x120cm
Great for Bassinet, stroller, pram and cuddles!
Awards
BRONZE – Mother & Baby Awards 2018
Most Environmentally Friendly Product for Baby
Bubba Blue Bamboo Collection
Bamboo is
Highly Resistant to Dust Mites

Luxuriously Soft

Hypoallergenic & Antibacterial

Naturally Breathable

Sustainable Bamboo

Thermo regulating – stays cool in summer & warm in winter

A great product for your child, your family & our environment!
What makes Bubba Blub Bamboo products for baby so special?
At Bubba Blue our main priority is the care & the well being of your little ones.Our Bamboo Baby bedding Collection is possibly the best on the market as it is softer, better quality, more durable, easy to care for and is well priced.
We are proud to develop & supply the best Premium Quality Bamboo products for you & your baby.
Whether you're after smooth & soft, or naturally breathable & hypoallergenic Bamboo products, you'll find it in our carefully selected range of sheet sets, blankets, towels & other mix & match items.
How is Bamboo made?
Bamboo Fabric Production Cycle
Bamboo Fabric is a natural textile made from the pulp of the Bamboo Plant

Bamboo is heavily pulped until it separates into thin threads of fibre

The fibre threads are spun into Bamboo yarn and rolled onto spools

Then the fabric can be made into bamboo sheets, towels and textile products